Guides how to repair tailgate wiring loom are well explained by other members.
If tailgate wiring loom needs repairing these guides serves very well.
Place needing inspection is the one where wires passes from body shell to tailgate. This is on the right side of tailgate when tailgate is opened as shown on picture.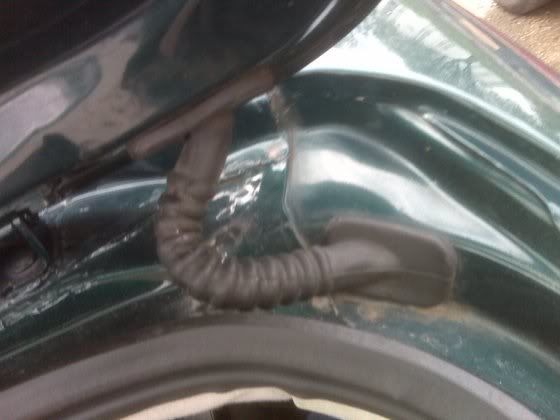 As you can see wires are protected in rubber tube secured with two grommets one on tailgate and one on body shell.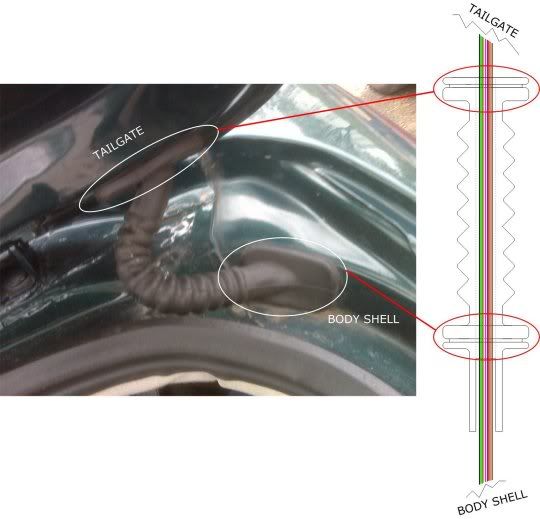 Wires passing through this rubber protection are folding each time tailgate is closed or opened. In this way wires can eventually break.
You need to see if there are broken or split wires, or wires which loose part of their insulation protection. If you find such wires, they can be cause of various electrical problems.
To start inspection you need to remove rubber grommets from tailgate and body. You will see that wires enters and leave rubber tube you have in your hands now. These wires are usually bonded together with some sort of isolation tape or so. You need to take as much of these wires out from tailgate and body shell as you can, BUT BE CAREFULL NOT TO PULL if wires do not want to go out any further – you might do unnecessary damage.
Wires should be pulled out to make good inspection of wires, as they know to loose their insulation outside of area protected with rubber. This can happen if wires are rubbed against metal of the car body due to opening and closing of tailgate door.
Once you have this part of wires in your hand you need to fold lower part of rubber protection as shown in Step 1, and slide whole rubber protection in the lowest position as you can. By this you have upper part of wires for inspection in the area shown on Step 2.
After you inspected upper part of wires, you need to slide rubber protection to the upper most position to inspect lower part of wires as shown in Step 3.
By doing this you will inspect tailgate wiring loom and you will know if you have any problems with broken, split or insulation free wires.
If there are no problems on wires, by reversing actions you did, you will bring back rubber protection of wires and seal tailgate and body shell entry points by grommets.
Following is list of wires passing this rubber protection from body shell to tailgate and their function.
Rover 200/25/MG ZR Tailgate Wire Colours & Functions
_____________________________________________
Black ------------ 2.5 square mm - Heated Rear Window (heater elemet) - earth wire
Black/Green ------ 2.5 square mm - Heated Rear Window (heater elemet) - live wire
Orange ----------- 1.0 square mm - Central Door Locking - wire 1
Pink -------------- 1.0 square mm - Central Door locking - wire 2 (all models mk1 and mk2 except 2004 mk2 onwards where wire 2 is ground wire)
Light Green/Grey -- 1.0 square mm - Rear Screen Wiper Motor - wire 1
Brown/Green ------ 1.0 square mm - Rear Screen Wiper Motor - wire 2
Red/Green -------- 1.0 square mm - Rear Screen Wiper Motor - wire 3
Red/Orange ------- 0.5 square mm - Rear Number Plate Lamp - live wire
Purple/Red -------- 1.0 square mm - Boot/Tail Door Switch
Green/Purple ------ 1.0 square mm - Lamp-Brake High Mounted - live wire
Kaip matot gidas nemano, o is
http://forums.mg-rover.org
" onclick="window.open(this.href);return false; tai nuopelnai jiem
jei labai reikes kam, galesiu isverst